A Child's Mid Summer Night's Dream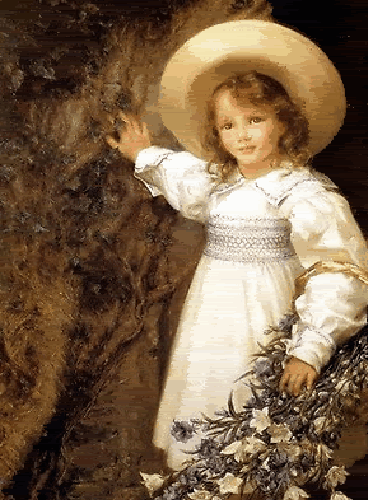 A Child's Mid Summer Night's Dream

I know that fairy's are very very small
so you cannot be a fairy at all!
Though your gossamer wings are lovely to see
a fairy would be much smaller than me!
Yet you could be an winged elf
so very much taller than myself!
So tell me what brings you here
in my secret garden where you appear?
There must be a reason for showing yourself
or I must be special to visit with an elf!
A message you carry just for me?
You brought it from far across the sea?
Am I really a princess you lost long ago?
how long do I have before I must go?
I must tell my grandma so she will not fret?
and a note for mom lest grandma forgets?
And what of my kittens can they come along too?
and will I get wings as pretty as you?
Will your land have a garden as pretty as this
Oh, there's so many things that I' going to miss!
Must I really go to this land far away?
I fear I'll get homesick and I wish I could stay!
Out of the darkness a bright light broke the mist
and I awoke to my grandma's good morning kiss!
Still I do wonder if it was all just a dream
from the corner of my eye…

I can still glimpse her wings!


Linda Seaman.LS ~February 21, 2010~

Tags: dream, elf, fairy, fey, gardens
This entry was posted on Friday, October 1st, 2010 at 9:21 PM and is filed under Fantasy. You can follow any responses to this entry through the RSS 2.0 feed. You can leave a response, or trackback from your own site.